This week, on Evey's Writers Blog, I'm hosting author, Sue Myers.  Please click on the link above to meet this wonderful author and read an excerpt from her latest novel, Deception.
  ≈    ≈   ≈
Here's the link to a lovely article about me in the Chicago Sun-times Newspaper, Southtown Star Section:
http://southtownstar.suntimes.com/neighborhoodstar/oaklawn/22891627-521/sabadosa-author-credits-much-of-her-success-to-oak-lawn-writers-group.html
≈    ≈   ≈
I'm excited to announce that my

new

mystery novel,

Love, Lies and Murder

, the prequel to

Masterpiece of Murder, is out as a print book and an eBook on Kindle.  http://tinyurl.com/k727uqs.  
Mystery… Romance… Humor…
Three elements that make my new novel an entertaining read.
In this prequel to Masterpiece of Murder, Charlotte Ross sees her world about to crumble when the man she's in love with–her mysterious boss, John Trent, announces his engagement to someone else.
Charlotte's best friend, dubious globe-trotter and mystery author Jane Marshall, arrives back in town only to stumble across the gruesome body of the town's millionaire industrialist.
 Jane becomes too wrapped up hunting for the murderer to help Charlotte in her embarrassing attempts to stop her ex-lover's wedding. Charlotte decides to join forces with her friend, hoping to ease her heartbreak while helping to find the old man's killer. In the process, the two self-appointed sleuths turn their small town upside down as their snooping leads them to uncover a connection between an old religious cult and an opium ring; circumvent and romance the police; cause a riot at a funeral; and narrowly escape the clutches of a madwoman.
Charlotte is endearingly impractical as her impulsive choices lead her into and out of peril, with only the wry and often-misguided advice of the capricious Jane to guide her. Eldridge Corners is rich with quirky, small-town personalities who both aid and thwart Charlotte's quests as the young woman discovers that people are not always who they seem–and a single error in judgment can prove fatal.
Reviews:
–"Love, Lies and Murder" by Evelyn Cullet is a fantastic read. I highly recommend this novel! –  Patricia Gligor, author of Mixed Messages and Unfinished Business.
–Love, Lies and Murder by Evelyn Cullet is entertaining, humorous and mysterious. The characters are well-defined and enjoyable, including the villains. I highly recommend Love, Lies and Murder to anyone looking for a mystery to hold their interest and entertain them at the same time. I had a smile on my face when I put this book down. – Marja McGraw, author of the Bogey Man Mysteries and The Sandi Webster Mysteries. 
≈    ≈   ≈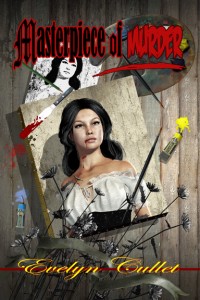 Masterpiece of Murder is a madcap, romantic suspense adventure about a heartbroken American art student, Charlotte Ross, who is so intent on locating her errant fiancé that she submits someone else's painting as her own in order to gain access to a Master art class being held in Bariloche, Argentina—the place her lost love was last seen. When the painting gets her accepted into the class given by a world-famous artist and womanizer, being a novice makes keeping up with the others nearly impossible as she struggles to fake her way though, while trying to win back the man she loves. But her fiancé has his own reasons for being in Bariloche – he's after a stolen art masterpiece. They complicate Charlotte's life and threaten her very existence as she stumbles into a downward spiral of deceit, art forgery, and murder. When she accidentally comes across the murder victim, circumstantial evidence begins to mount against her and the local police suspect she is the killer. Now she must discover who is really behind the murder before she's arrested. Not an easy task with a smitten military police officer dogging her every step.
************
Reviews:
–Masterpiece of Murder held me in suspense until the final page. Evelyn Cullet has crafted her mystery to ensure that the twists and turns Charlotte Ross has to take to prove her innocence, keep the reader engrossed throughout. The author's skill in developing her very believable main character, makes sure the reader is able to feel her emotions, share her frustrations, her fear and her relief. –Vera Berry Burrows, Author of Tomorrow Never Comes, and Regarding Kimberly.
–The twists and turns in this novel will have the reader on the edge of their seat through to the last page. A masterpiece from Evelyn. Enjoy. — Author Marilyn Rice.
–Evelyn Cullet displays a style that makes the reader wonder, laugh and keep turning the pages of an unforgettable story. Once the book is started, it will be hard to put down. — Cleo Lampos, author of  Teaching Diamonds in the Tough.
*************
Here's the link to the YouTube trailer for Masterpiece of Murder:
  http://youtu.be/TVKgOmwyGB4
If you love mystery, romance, and suspense, follow Charlotte on a madcap adventure through the beautiful and sometimes perilous resort city of Bariloche, (pronounced, bah reeh LOH cheh), Argentina, to uncover a Masterpiece of Murder. To see photos of the places mentioned in the novel, I invite you to explore my photos page.
The masterpiece mentioned in the novel, The Concert, is an actual art masterpiece by Johannes Vermeer that was stolen from the Isabella Stuart Gardner Art Museum in Boston in March of 1990. Of the 13 pieces of art that were stolen,  this was the most expensive, valued at an estimated $200,000.000.00. While my story does not attempt to solve the Boston art theft, it does give a strong sense of what happens when unscrupulous people try to profit from some else's crime.
 The Concert
The style of painting being taught in Masterpiece of Murder is Chiaroscuro which originated in the Renaissance. It's an Italian term that literally means, "light-dark". In paintings the description refers to clear tonal contrasts of extreme light and dark shades, as in the painting below by Jan Davidsz de Heem:
Festoon with Flowers and Fruits
Love, Lies and Murder, and Masterpiece of Murder are published by Wings ePress and are available in e-book and print versions directly from the publisher, http://www.wings-press.com and from Amazon.com at:
http://tinyurl.com/k727uqs    and   http://tinyurl.com/9jjl5xc
 They are also available for the Nook from Barnes &  Noble. http://tinyurl.com/9uyqj5r and http://tinyurl.com/kbdpxg3